Times of transition and change can be difficult for anyone. For someone with dementia or other cognitive issues, transition periods can be even more stressful or anxiety-inducing. In some cases, memory care isn't suitable for an adult in the early stages of dementia.
However, assisted living communities can often assist the aging adult until it's time for memory care. But when should the senior move to memory care? There's no one-size answer because dementia develops differently in different people.
It may be time to move to memory care when safety becomes a concern, behavior becomes aggressive, or the senior has trouble in other areas of their life other than memory.
In this article, Cedar Creek Senior Living reviews each type of senior community. Plus, we've included a couple of tips for making the transition as smooth as possible.
What Is Assisted Living?
Assisted living communities can help seniors live safely by themselves, offering care on an as-needed basis. This isn't to be confused with a nursing home, where the focus is on 24/7 medical care for older adults who cannot care for themselves.
An assisted living community, such as Cedar Creek Senior Living, is a place where seniors get help with daily tasks, such as housework, medication management, and some medical care. But the goal is typically to provide them with as much independence as is safely possible.
What Is Memory Care?
When deciding on a retirement community, it's helpful to consider the future. For example, suppose your loved one is displaying early signs of Alzheimer's or a dementia-related condition. In that case, it may be worth exploring communities that offer memory care in addition to assisted living.
Staff who care for residents in a memory care community, such as Cedar Creek Senior Living, are specifically trained to deal with complications residents with dementia may experience. These complications may include things like aggressive behavior or inability to understand instructions. They are also trained on specific approaches to take when communicating with residents with dementia.
Another benefit that sets memory care apart from other senior community accommodations is the focus on the safety and peace of the residents. Often, the buildings are designed with memory care in mind. For example, they may feature color-coded hallways or easy-to-navigate common areas.
Moving to Memory Care
Two people dealing with similar cognitive problems may actually end up ready to move to memory care at different times based on how quickly dementia develops. A doctor can help offer a reliable recommendation on living arrangements.
But there are a few signs to watch for that indicate it may be time for an older adult to transition into memory care:
Drastic changes in behavior, such as getting frustrated or confused easily.
Forgetting important details and getting confused about how things happened.
Losing interest in things they once enjoyed.
Difficulty with eating or drinking, or forgetting to do either.
Trouble falling asleep or staying asleep.
Neglecting self-care, such as washing, showering, or brushing their teeth.
Inability to perform daily independent activities, like cooking, cleaning, or getting dressed.
Disorientation or confusion about their surroundings, especially in familiar places.
It's important to note that this isn't a comprehensive list of signs, nor do any of them automatically mean an older adult needs to be in memory care. It's important to involve the senior's doctor if they may be experiencing dementia.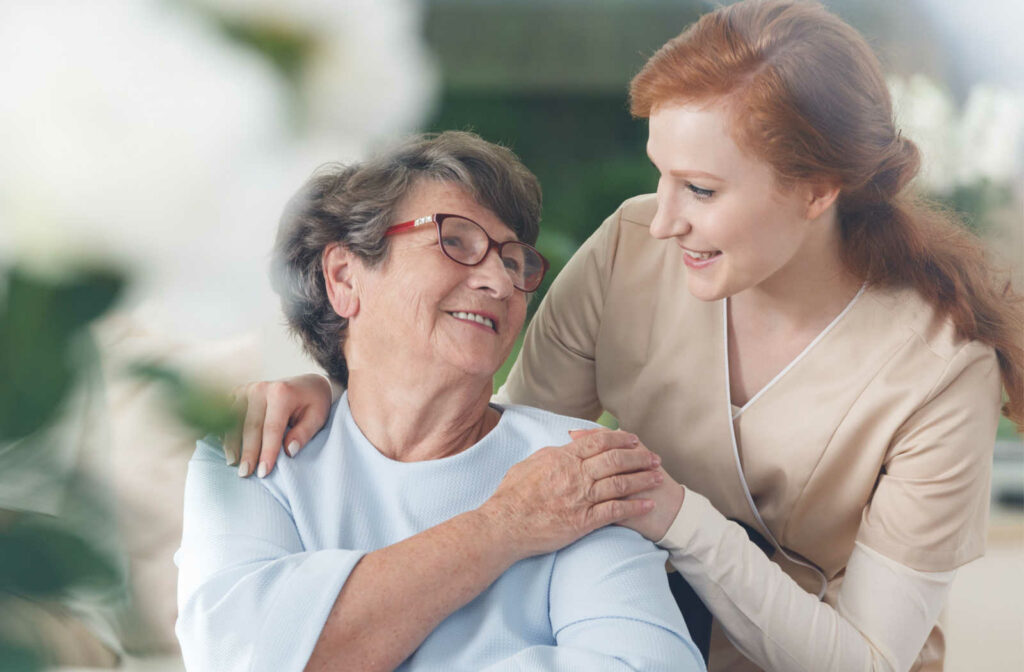 Tips for a Smooth Transition
If it's time for a senior to transition to memory care, it can easily become an ordeal. Cedar Creek Senior Living would like to share Here are a few tips for keeping the peace during the change:
Visit the new community with your loved one. Allow them to explore and get excited about the change in scenery.
Be as thorough as possible when answering questions about your loved one's health and history.
Try and set your loved one's new room up as close to their old one to give them as much familiarity as possible.
Allow your loved one to have as much input as possible.
Keep a positive attitude and avoid getting frustrated if things don't go as planned.
Finding a Community to Support You
Choosing a place to retire is a big decision. If there are any special concerns, such as the development of dementia, this decision can become even larger. Cedar Creek Senior Living's team is available to answer your questions.
When you're ready to take the next step, we're happy to book you an appointment for a community tour.